35% of affiliate marketers make $20,000 annually at the least. This marketing strategy doesn't have barriers to entry and doesn't require any investments but your time. With some time and effort, you can create a great source of passive income in a few months.
Let's avoid long introductions and dive right into the best practices for making money with affiliate marketing. Ready to start? Here we go.
But first, what is affiliate marketing?
In case you still need the explanation…
Affiliate marketing is a form of marketing where you promote another company's product or service and gain a commission for each sale you drive. It's the easiest way for influencers and content creators to monetize their content.
How does affiliate marketing work?
In a nutshell, affiliate marketers help to spread the word about products or services and make a commission on each sale their unique link generates.
For example, if you have a lifestyle blog and you write about kitchenware that costs $145, you would make a certain percentage of $145 for each item sold through your unique affiliate link.
An example of a content piece with affiliate links.
You can use your own website, create landing pages, or add your affiliate links in newsletters – there are plenty of ways to promote affiliate products. Successful affiliate marketers combine various strategies to scale their campaigns and boost profits.
To get your unique affiliate link for a product or service, you can research a specific merchant (a product creator) and apply on their site or join one of the affiliate networks that compile multiple affiliate programs in one place.
On-Demand Video Course On Native Advertising
Boost your ROAS with native ads. Enroll now with our limited 30% discount.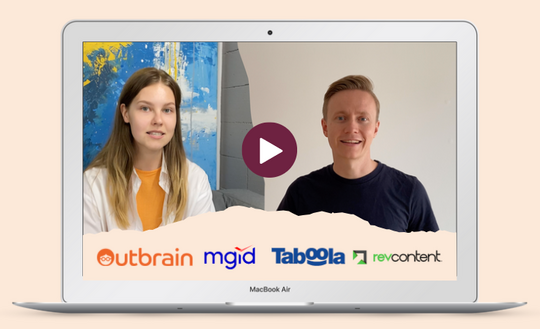 The largest affiliate networks with merchants in different industries are Rakuten Advertising, lemonads, and Awin.
Sometimes, you might come across niche-specific networks. For instance, Travelpayouts is the only travel affiliate network.
A few words about cookie lifetime
What's most important, you might earn a commission even if your audience leaves a landing page without making a purchase. Typically, affiliate programs have certain a cookie length – a parameter that determines the expiration date of the relation between the user and the affiliate.
Most programs have a cookie lifetime between 30 and 90 days. It means that if a person who has previously interacted with your affiliate link visits the vendor's site and makes a purchase before the cookie lifetime expires, you still earn a commission.
Legal considerations and restrictions for affiliate marketers
If you decide to become an affiliate marketer, you should consider restrictions and rules you'll need to follow.
1. Disclosure is a must.
Whenever and wherever you add your affiliate links, your connection to the merchant should be clearly disclosed. Otherwise, you violate the FTC rules and become subject to law enforcement actions.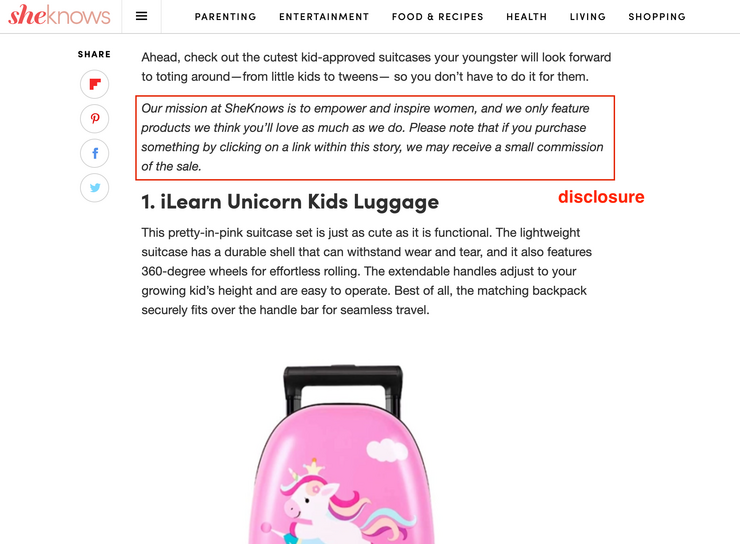 2. Mind specific merchants' terms and conditions.
While FTC sets global standards for everyone, each specific merchant also sets their own rules for their affiliates. Here are the key factors you should pay attention to when considering a partnership with a merchant:
What are their restrictions for promotion methods? It often happens that a merchant doesn't allow certain promotion strategies, like paid advertising, email marketing, or social media marketing.
What are the guidelines for content you'll use to promote their links? Should the assets used in your promotional campaigns align with their brand design?
What is the minimum payout amount, and when will you be paid?
What are the payment methods?
How much money can you make as an affiliate marketer?
Affiliate marketing can not only be a side gig but also a full-time project allowing you to earn a living. According to Affise's poll results, only 18.8% of affiliate marketers earn less than $20.000 a year. The majority of respondents make from $21.000 to $2M a year.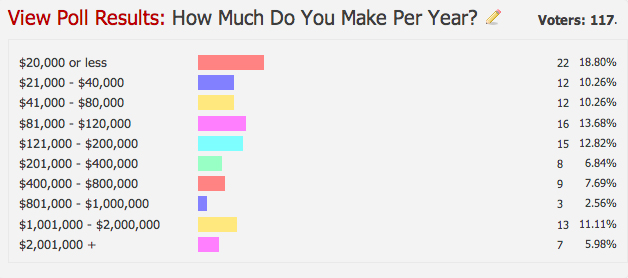 The amount of money you can make as an affiliate marketer depends on the amount of time you dedicate to the project and your marketing experience. If you don't have any experience, it's better to gain it first. Otherwise, instead of building a passive income stream, you risk losing the money you have.
How to become an affiliate marketer in 5 steps
To start your journey as an affiliate marketer, you need to do some preparations. It takes you to select a niche, decide on hosting for your website, think of whether you want to work directly with vendors or not, choose the right programs, create content, and explore promotion channels. And it's only the beginning.
But let's not rush things. Step-by-step, we'll guide you through the process of becoming an affiliate marketer with a steady income stream.
Step 1: Choose a niche
First, think of your expertise. What have you been doing for a living? What are you passionate about? Can you use your experience to build your website upon it?
Chris Tweten, CMO at GrowSurf, insists being really into the chosen topic is a must of a successful affiliate marketer: "Long-term affiliate marketing success hinges on having enough passion for a niche to produce content for it indefinitely. Far too often, I see people getting into a niche purely for the potential margins and market gap but burn out quickly because it isn't a niche they truly care about. You don't need to solely stick to your guns, but I've had a much smoother time pumping content for affiliates that align with my personal and career interests."
Make a list of the niches you might be interested in, and then do some competitive research. Search for related content and see what websites rank on the first page of search results.
You can use a free version of any SEO tool to run a basic analysis of each site. Just enter the name of the website into the search bar, and you'll receive the data on its estimated organic traffic, authority score (also known as domain rating or domain authority), and a number of links pointing to this site. These are the key 3 numbers you need to understand who you'll be competing with.
Although the tool is showing only approximate data, this is enough to figure out whether it makes sense to try to compete with the niche leaders or not.
Just take a look at the example below. If you analyze websites ranking high for the 'how to remove insects,' you'll see most of them have an authority score of 30-40 and not so many links. It means it won't take much effort for a new player to reach the first page of the search results in a month or two.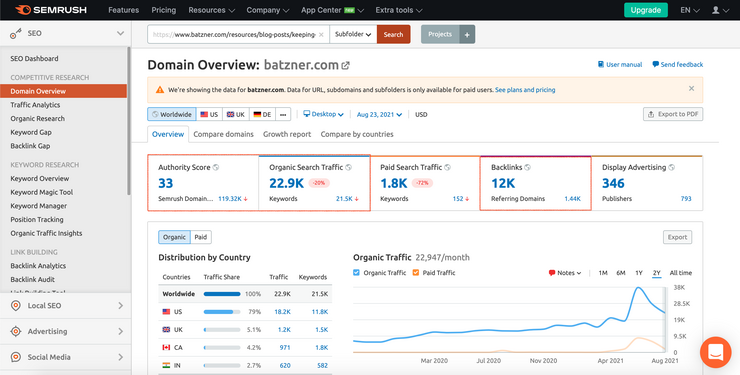 However, if you research sites in the marketing industry, it's hardly surprising that 90% of top-ranking websites have a domain rating of 50 and higher.
After you analyze the competition in all the niches you've shown interest in, you'll narrow down your list significantly. We recommend that you focus on the niche that has a perfect balance of decent search volumes and moderate competition.
Step 2: Think of whether you're going to build a website or not
Wait, isn't it a must? Not at all.
Dominic Kent, freelance content strategist and marketing consultant has told us about his experience with generating income with blogs published on Medium: "I made $5,641 through affiliate marketing links in four blog posts on my Medium account in 2020.
I have other affiliate links spread out across other blog posts, but I decided to use Medium to utilize its high domain authority. Using Medium's high authority, I shortcut the need for various SEO activities. My blog posts were on the first page of Google with very little effort.
Using Medium also ensured my affiliate earnings were 100% profit (less time taken to write four 1,000-word blog posts). There was no expense for content promotion or website fees."
However, the method has its drawbacks. A year later, Dominic has learned a valuable lesson:
"After a year of regular affiliate earnings through my Medium account, I saw my monthly sales tumbling because my blog posts were no longer on the first page of Google.
In fact, all my Medium posts (~150) had been hit. After much analysis and content refreshing, I discovered that Medium's entire site had been hit. It's unclear what the issue is at Medium but I am not alone in finding thousands of pageviews disappear overnight.
I have since moved my affiliate blog posts to my own site where I must now build up niche authority from scratch. I've enjoyed a year of near-free earnings but now must put in the effort to building a site that ranks for my specific affiliate products."
Dominic says owning your content is crucial if you want to build a steady passive income stream. However, starting off on a platform, like Medium, might be a great solution for marketers willing to touch the waters.
Step 3: Find an affiliate program
You can either sign up for an affiliate network that compiles all the most popular affiliate programs or partner with vendors directly. The first option is more preferable if you want to be able to easily scale your campaigns and promote multiple products at a time.
We've already listed the most reputable affiliate networks earlier, but here are a few more platforms to add to the list:
On-Demand Video Course On Native Advertising
Boost your ROAS with native ads. Enroll now with our limited 30% discount.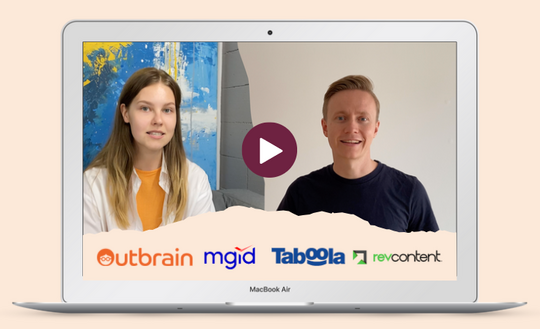 Step 4: Analyze the market… again
Before you start creating promotional campaigns, you need to figure out to whom your content should appeal. The best way to find your target audience is to research your vendors' and their competitors' sites.
Look through their landing pages and blog content and try to answer the following questions:
What topics do they cover?
Who are they talking to?
What level of experience do these people have?
What are their job titles?
What kind of information do these people need?
What are the channels vendors and their competitors use to promote their products?
When you have these questions answered, you'll have a better idea of your audience's interests and needs, which is essential for creating content that sells (see Step 5).
Step 5: Create content your target audience wants
Of course, you won't make money without quality content. To attract the right audience and drive those people to purchase decision, use different content formats that will assist them in different stages of the buyer's journey. Your content strategy should include the creation of tutorials, product reviews, listicles, video guides, and more.
Gaurav Sharma, experienced affiliate marketer and digital marketing consultant, suggests using the LIFT model to create content that converts: "The LIFT model that focuses on six key factors—clarity, value, anxiety, urgency, distraction, and relevance.
According to it, great content meets user intent (relevance) and solves users' problems (anxiety). It also spurs readers to action (urgency) and offers them actionable tips (value). Lastly, it's clearly worded (clarity) and has a single-point agenda (distraction).
Though the LIFT model is mostly used for website content creation it can be applied to other content types to boost conversion and ROI."
It's important that your links fit naturally into your content. For instance, here's how House Beautiful, an interior decorating magazine, inserts affiliate links in the content.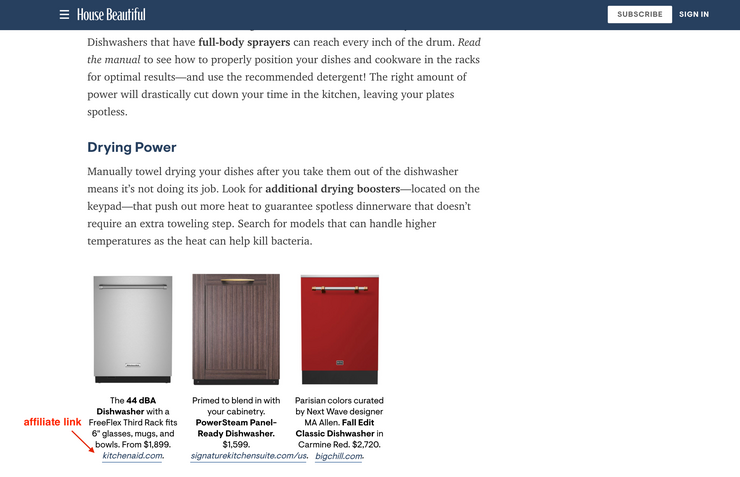 Instead of aggressively promoting products they want to sell, they add affiliate links alongside links to products they have nothing to do with. This builds trust with their readers and increases the chances of conversions.
Step 6: Choose channels for promotion
If you have no or little experience with promoting products or services with the help of your website or other platforms, you'd better take a look at this list of online courses that introduce affiliate marketers to various promotion methods.
… If you have some experience in digital marketing, we'd still recommend that you take one or two courses from the list to upskill and discover strategies your competitors haven't nailed yet.
When you're good to go, decide on two or three marketing channels you'll be using to distribute your links. Typically, affiliate marketers focus on organic search and several paid advertising channels.
Here's the ultimate list of marketing activities that have proved effective for affiliates.
SEO
Search engine optimization is a must for marketers willing to win top rankings on Google. To make your content rank on the first page of search results, you need to take consistent effort creating landing pages and articles that are user-friendly and rich with the right keywords, build links, and update your most important content regularly.
Facebook Ads
It might take a few months before your content starts to rank well. Therefore, adding a paid promotion channel to your marketing mix is the only way to start making money fast.
Advertising on Facebook is one of the most popular techniques among affiliate marketers who have a budget. That's why we don't recommend that you rush into it. The competition is so high that you'll need to take risks and boost your CPCs above the average level, which might fail to pay off.
On-Demand Video Course On Native Advertising
Boost your ROAS with native ads. Enroll now with our limited 30% discount.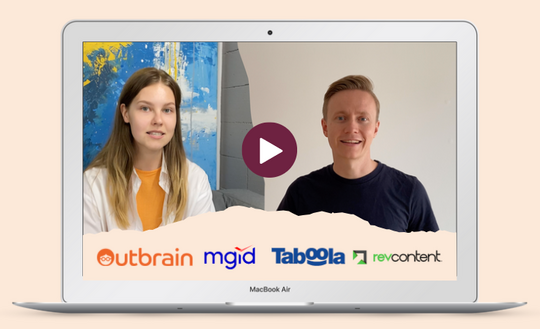 Native advertising
The method involves running ads across online publisher websites with the help of a native advertising platform, like Taboola, Outbrain, MGID, or any other.
MGID is particularly popular among affiliate marketers for its low CPCs and responsive account managers.
Lower costs isn't the only advantage of native advertising over paid social media advertising. There's also no risk of getting your ad account banned for no reason. As long as you follow the rules of a chosen platform, your ads will be manually reviewed and approved by a content review team.
Register for our on-demand course on native advertising to be the first to access exclusive content when we launch it.
Google Ads
Like Facebook Ads, paid search advertising has its own challenges. Google also forbids the use of bridge pages. It means you'll need to create genuine affiliate landing pages that provide valuable content on their own, without just sending visitors from one page to another (as affiliate marketers often do).
You should also take a look at your merchant's policies before you start an ad campaign as some merchants don't allow their referral partners to promote affiliate links with Google Ads or any other type of ads.
Email marketing
Email lists allow you to reach out to your audience directly. You can use your website to capture leads who might be potentially interested in your products but aren't ready to buy yet. Having those people's email addresses on your list gives you another chance to put your content in front of their eyes and win them back.
Other less popular but nonetheless effective techniques include:
YouTube marketing
Instagram marketing
LinkedIn marketing
Quora marketing
Publishing articles on Medium
Step 7: Act
While it may seem as simple as distributing affiliate links and waiting for them to make a fortune for you, affiliate marketing is a complex strategy that requires consistent effort and industry knowledge. It can be especially difficult if you have a smaller audience or if you're starting from scratch. The best way to kick-start your career as an affiliate marketer is to be ready to always learn, create high-quality content, and promote it to the best of your ability.