Are you thinking of ways to rebrand your small business? Maybe you tried one strategy, and it's not giving you the desired results. Or perhaps, market research revealed the need for rebranding as a way to improve your bottom line.
Whatever may be the reason, when thinking about ways to rebrand small businesses, the first question is often how you get started? Should you design a new logo, change your business name, or should you completely rehaul the whole thing?
When done right, rebranding can become a solid magnet to attract new audiences and give them and your brand a fresh and exciting new brand identity. And while that may be the case, rebranding is one of the most challenging marketing strategies to pull off.
When on the path to rebrand a small business, you need a plan of action. You need to start with solid research––know what you need to do, the kind of message you want to convey for the rebrand to be successful. If you don't have a data-backed, fresh, inspired, and creative approach, give yourself a break, do some research, and then start with the rebranding exercise.
In this article, we'll cover the following:
What is rebranding?
Rebranding is changing a company's current brand image. It involves (but is not limited to or restricted to) changing the business name, logo, brand colors, and other structural parts of the company's current brand image to allow new perceptions to form in the minds of customers, investors, and other vital stakeholders.
On-Demand Video Course On Native Advertising
Boost your ROAS with native ads. Enroll now with our limited 30% discount.
Types of rebranding
Small business rebranding can be broadly categorized into three different types. This gives you a fair idea of what kind of rebranding you are going for your business.
1. Brand Merger
A brand merger is when you join hands with another organization or are acquired or when a company welcomes whole new management. This type of rebranding combines two or more businesses into one. For example, you combine two logos or names to make a single logo or business name.
2. Brand Refresh
This is one of the most common types of rebranding that completely refreshes your current brand. If there has been a change in your company values or brand design, you will probably go for this option. The entire visual identity of your brand will be updated to help you keep up with the latest trends in the industry and market.
3. Complete Rebrand
A complete rebrand is one of the most crucial decisions that affect every aspect of the business and must be thought through. Companies often opt for a complete rebrand when their products or services fail to resonate with the audience, and sales don't increase. A complete rebrand implies that there will be little to no resemblance to your previous brand. It'll be like creating a whole new company.
Top reasons to rebrand a small business
Various factors act as a motivation behind rebranding a business. Listed below are some of the top reasons for a rebrand.
Changes in management such as a merger, acquisition, or a demerger.
Changes in brand positioning and products or services can often result in rebranding to make the transformation evident to all the stakeholders.
If the organization is planning to expand to international markets, rebranding might be necessary.
Changes in the market or digitalization often demand that businesses rebrand and relaunch themselves to show off their new and improved version.
If there has been any negative press or a negative perception that needs to be changed, then rebranding might help.
Changes in the organizational structure, like the appointment of a new CEO could call for a rebrand.
While these are some common reasons, they're not all. There could be a variety of reasons why a business decides to rebrand. One of the factors to keep in mind when going through a rebrand is to have all internal stakeholders on board with the objective, its reason, and the rebranding strategy.
Rebranding strategies
To implement a rebranding strategy successfully, you'll need to identify if your brand needs a partial or complete rebrand. Knowing what type of rebrand this is will help you.
With that established, understand your brand's target audience–identify the demographic you're hoping to attract with a rebrand. Finally, redefine your company's vision, mission, and values and use these as the foundation that guides your rebranding strategy.
1. A new logo
A logo redesign is one of the most common and important rebranding strategies. Your logo is the visual representation of your brand, and changing that is the fastest way to communicate your rebranding. Using a new logo will immediately tell your customers that you've got a shiny new brand identity. You can make it sleeker, more uncomplicated, use different colors, icons, and so much more. You could try using a logo maker to get started.
2. Change your brand positioning
After changing your brand logo, the next step is to shift your brand's current positioning. It needs to align with your logo and your business values. You can't just change your logo and brand colors and call it a day. The content you create and how you communicate with your audience needs to reflect that change. Changing your brand positioning will tell your customers your new mission, vision, and values. It'll communicate who you are after the rebrand.
3. Update your brand's voice
A new positioning is incomplete without a unique brand voice. Maybe you were extremely serious and corporate before, and with this rebrand, you've decided to change your brand voice to be more casual, relaxed, and fun. Your marketing communication will reflect your new voice, and it's essential to get it right. Study your demographic and see what kind of brand voice resonates with them the most before settling on one.
4. Start new ads
Create some ads with this content and messaging in mind once you have a new look, positioning, and voice for your brand. These ads should communicate the changes to your brand and what they mean for your customer. This can help you target and attract the right demographic and reach potential customers.
Rebranding examples
1. Hypercontext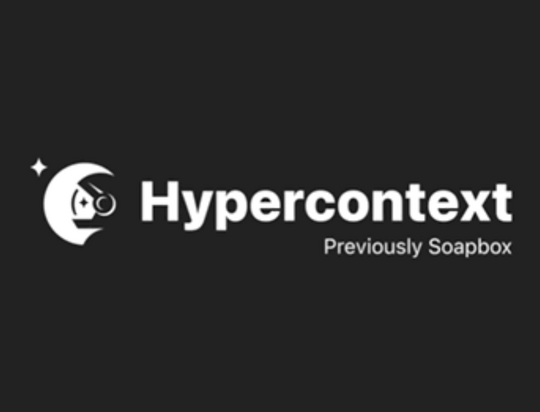 In 2021, Soapbox rebranded to Hypercontext and updated their product to elevate user experience.
Here's how Brennan McEachran, Co-Founder and CEO of Hypercontext, explains the reasons for this rebrand: "When Soapbox launched 11 years ago, it was a totally different product. We provided a platform for employees to share ideas with leadership and rally for change at their companies. Soapbox was the perfect metaphor.
Over more than a decade later, we've changed a lot […] If the rise of remote work this past year has shown us anything, it's how important it is that when teams meet, they do it with purpose […] We believe the difference between good meetings—good companies—and great ones boils down to context.
[…] The hyper in Hypercontext is our commitment to go above and beyond. We promise to help you add structure, strategic goals for your company and your team, and more productivity to your meetings. We'll help you connect the dots to empower your people."
On-Demand Video Course On Native Advertising
Boost your ROAS with native ads. Enroll now with our limited 30% discount.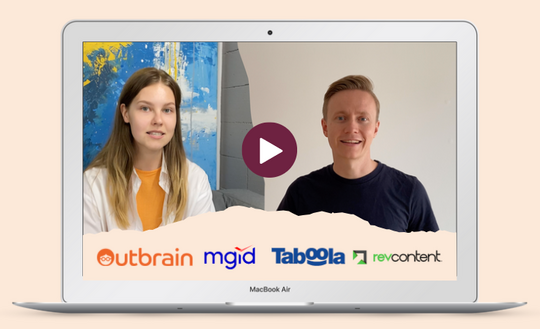 2. Dropbox

In 2007, Dropbox was first launched as a file storage and file-sharing service. However, a decade later, in 2017, they rebranded themselves as a company that wanted its customers to think of them as "the connective tissue for teams and businesses of all sizes." Dropbox became a full suite with APIs, tools, and integrations from being just a file-sharing service. They changed their product offering and rebranded themselves.
Along with its offering, Dropbox has also changed its logo to make it look cleaner and more straightforward.
3. Candid
Candid is an excellent example of rebranding after a merger. Foundation Center was one of the largest sources of information about philanthropy and GuideStar for U.S. non-profit organizations.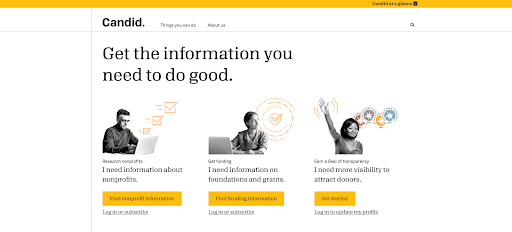 In 2019, both these organizations joined hands. They became Candid, making it easier for both the organizations to enhance their service and offer valuable information to millions who rely on their services to make the world a better place.
If you try to visit Foundation Center's website (foundationcenter.org), you'll be redirected to Candid's website with the following message: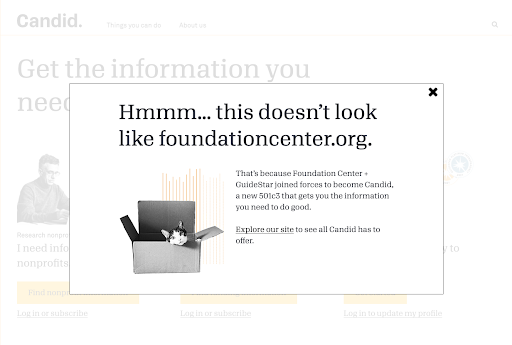 Guide Star's website is still active, but it has Candid's name and branding. Candid is an excellent example with its mission and vision reflecting the values of the two businesses.
Ready to rebrand your small business?
Now that you have a fair idea of what a rebrand is, different types of rebranding, and a few rebranding strategies, you should consider building a roadmap to rebrand your small business. Whether you end up with a logo redesign, a new messaging, completely new positioning, and brand voice, a rebrand can help you build a fresh identity to attract the right kind of customers to build and grow your business.