Lead generation ads, brand awareness campaigns, sales-driven ads – when you run paid campaigns for a SaaS company, you create ad creatives and landing pages of all types on a daily basis. It's no surprise you might run out of ideas at some point.
We at Joinative manage up to 20 clients' accounts with over a dozen of campaigns per each. You can trust us that we know how to get inspiration for new ads. While our campaign managers mainly focus on native advertising, we also have extensive experience with paid search and paid social advertising.
In the article, you'll find over 20 examples of the most effective SaaS advertising campaigns across all the top channels and also learn what makes them so special.
SaaS advertising: The key peculiarities
Before we illustrate examples of our favorite SaaS ads, it's crucial to highlight what differs SaaS companies from other B2B brands. This section will explain why we find the campaigns listed below remarkable.
On-Demand Video Course On Native Advertising
Boost your ROAS with native ads. Enroll now with our limited 30% discount.
Promoting a SaaS solution has its peculiarities and challenges. Here are some of them.
The buyer's journey may last too long
How much time passed from the moment you read your first article on the HubSpot blog and before you created your first free account on the platform? For the author, it's been over 2 years.
SaaS marketing differs from marketing for other niches a lot. Unlike many B2C and B2B products and services, where customers have clearly defined pains and know exactly what they need, your potential customers often need help with identifying their pain points. Often, before you can convert a customer, you need to educate them so that they realize the need for the product.
How does it affect your advertising campaigns?
Focusing on sales-driven campaigns won't work well for a SaaS company. You need to go full-funnel and use your paid campaigns to build brand awareness, educate your prospective customers, and generate leads that you'll later nurture with email marketing campaigns.
That's why it's also important to pick the right attribution model that allows you to measure the impact of each marketing and advertising campaign. If you don't use any attribution model, all the credit will be given to the last user touchpoint before the conversion, which is typically a sales page. In this case, you might fail to see any value in brand awareness campaigns and prioritize hard sell, which is a road to nowhere.
The decision stage takes less time than one of other B2B companies
You don't need to 'jump on calls' with sales representatives before you subscribe to a $10 service. Unless there's a need for an enterprise solution, there are no negotiations and proposals. All you have at your disposal is a bunch of emails and a demo call.
Most often, your prospects want to have as few interactions with your sales reps as possible. Self-service plays a significant role in the SaaS marketing strategy. When they're ready to make a conversion, people want to do that in a few clicks without your help.
How does it affect your advertising campaigns?
Your content should speak for itself. Landing pages should be intuitive, with clear CTAs. If you promote a sales page, any distracting elements, like menus, blog links, and others, should be eliminated.
Retention is the key
The average customer acquisition cost is $205. Compared to other B2B industries, where CAC averages $500, it's not too much. However, you should also consider that SaaS products typically cost way less than B2B services, like app development or marketing agency services.
It's very likely that after spending over $200 to convert a lead into a paid user, you get only $20 from their first conversion. To get to profitability, you need to make sure this customer will stay with you for a long time.
Given the high costs of converting new customers, SaaS companies should prioritize retention over user acquisition.
How does it affect your advertising campaigns?
Attracting relevant audiences is more important than ever. Even if you manage to convert a person who doesn't quite match your ideal customer profile, the game is not worth the candle. They'll see your product isn't the right fit for them and won't renew their subscription, which means you won't even break even after all the efforts taken.
So, you should think long-term. It's not just about converting as many people as possible. Your campaign should catch the attention of the right audience, drive them to the landing page that educates them and creates a clear image of your offer, and make them want to enjoy its benefits.
The Best SaaS Facebook Ads
Now, let's take a look at some iconic SaaS Facebook Ad examples that illustrate some of the best practices for SaaS advertising implemented.
Facebook Ad for SaaS #1: SEMrush
SEMrush is an all-in-one SEO platform allowing everyone – from small businesses to marketing teams of enterprises – to access marketing insights.
In the campaign below, they appeal to the audience segment that has the highest value for them – marketing agencies. The advertiser has also touched upon one more audience segment, which is small business owners.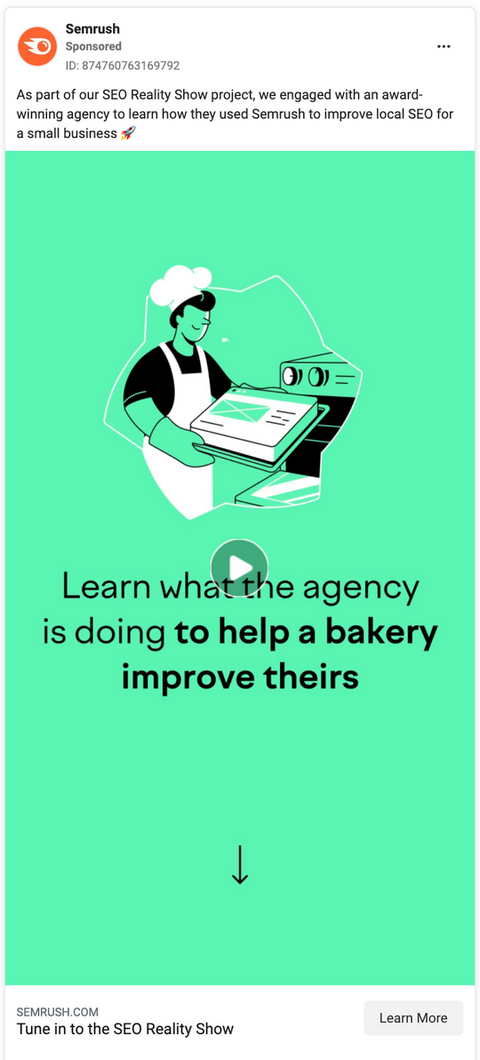 Facebook Ads for SaaS: SEMrush
While appealing to the specific audience with the ad creative, SEMrush uses one more effective technique, namely using a case study as campaign content.
This is a great example of a campaign that targets people in the awareness and consideration stages of the buyer's journey. A creative mix of an engaging topic (they call this format 'SEO reality show,' doesn't it sound catchy?) and interactive content makes the campaign attractive for the right audiences.
One more distinctive feature of this campaign is that its ad creatives match the landing page content. Too often, advertisers use catchy ad headlines to drive visitors to a typical product page that's not related to ad content.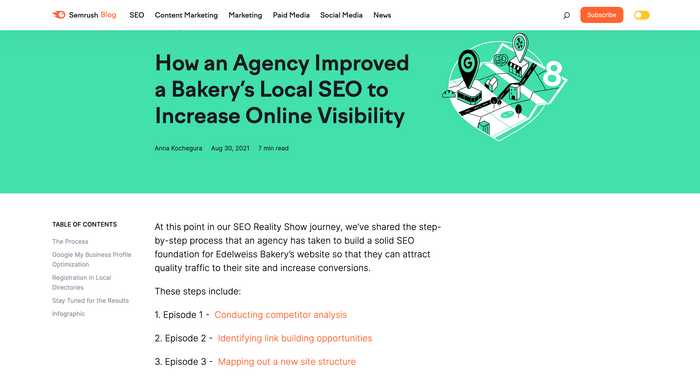 You can also see they use the 'Subscribe' button instead of the 'Sign Up' one. It means the SEMrush team understands they're less likely to turn readers into paying customers right away. So, they prefer to use this large-scale campaign to collect newsletter subscribers (read: 'leads') and then nurture them with email marketing campaigns.
What's good about this campaign:
A catchy video ad;
It's aligned with the buyer's journey;
Alignment between the ad headline and landing page content.
Facebook Ad for SaaS #2: Mailchimp
Mailchimp is a marketing automation platform that targets a wide range of audiences.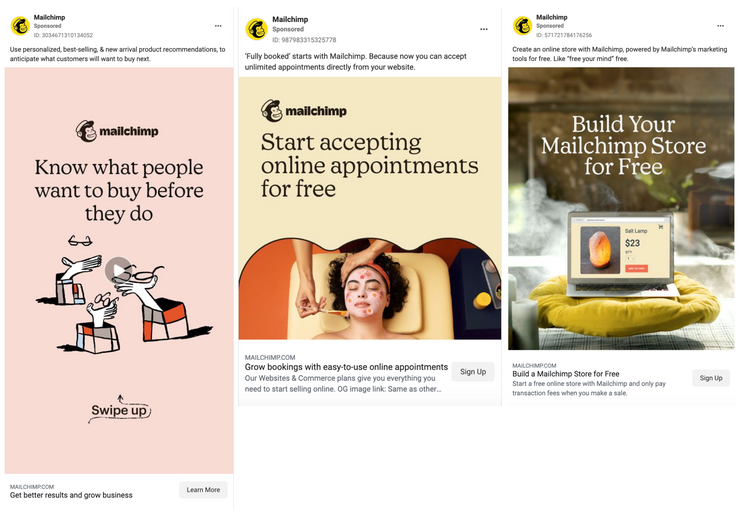 Facebook Ads for SaaS: Mailchimp
All 3 campaigns you see above have one common feature – each of them highlights only one of the actions that can be taken with the help of Mailchimp. Instead of using a very generic message, like 'Launch the most effective email marketing campaigns,' they've identified the key use cases of the platform and based the campaigns upon them.
On-Demand Video Course On Native Advertising
Boost your ROAS with native ads. Enroll now with our limited 30% discount.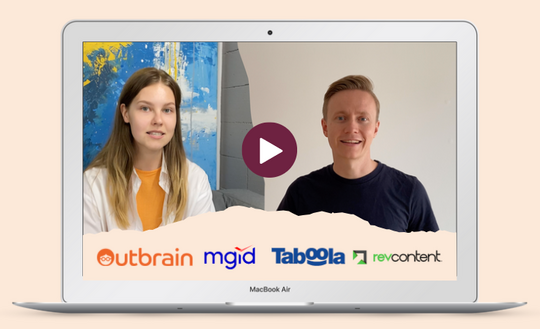 What's good about these campaigns:
Captivating visuals;
Only one feature per ad;
Customer priorities are carefully analyzed and used to build stronger campaigns.
Facebook Ad for SaaS #3: SurveyMonkey
SurveyMonkey is an experience management platform that provides a toolkit for creating online surveys.
The campaign illustrates the example of a survey that you can build with the tool. No lengthy and boring introductions, just facts.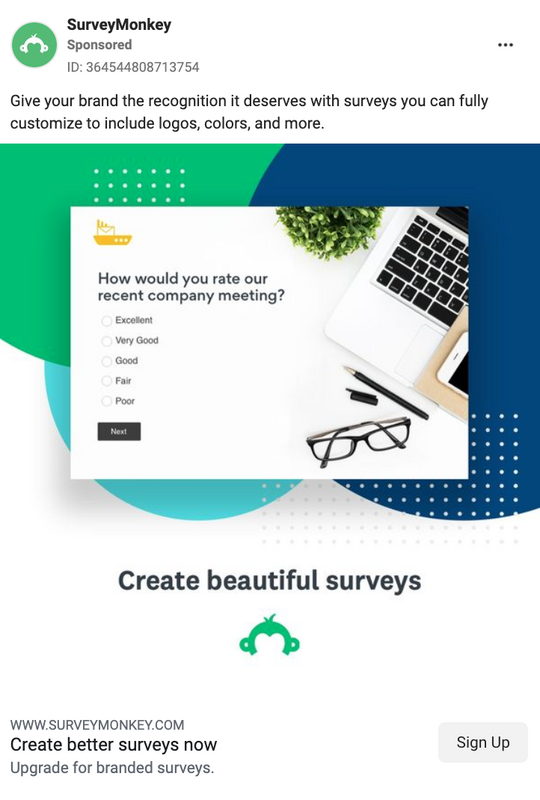 Facebook Ads for SaaS: SurveyMonkey
What's good about this campaign:
It showcases what you can build with the tool;
It's laconic;
The use of concise language and a clear CTA.
Facebook Ad for SaaS #4: Kinsta
Kinsta is a company offering premium managed WordPress hosting. To reach positive ROAS, Kinsta needs to find a way to attract people who manage websites, which is a pretty narrow audience segment.
The company uses Facebook Ads to attract people who might be concerned about their site security and collect their email addresses.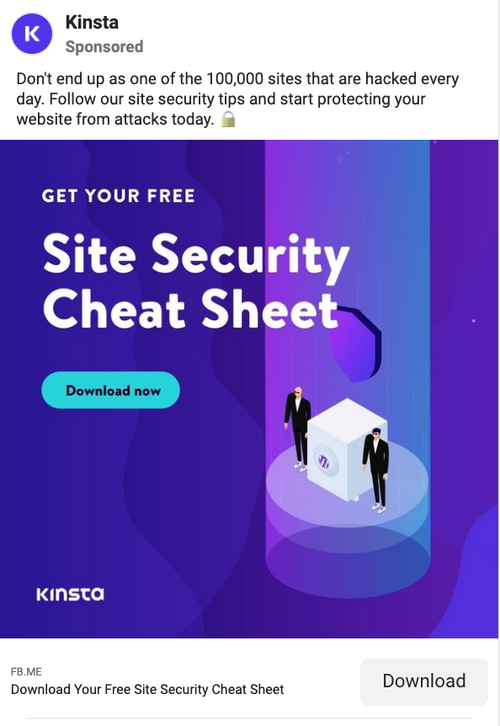 Facebook Ads for SaaS: Kinsta
What's good about this campaign:
The use of a lead magnet that's highly relevant to the interests of Kinsta's potential customers;
A brief lead capture form includes as little as 4 fields;
The absence of distracting elements on the landing page.
Facebook Ad for SaaS #5: Canva
Canva is a graphic design platform that can be used literally by anyone.
We've selected the following campaigns to demonstrate the importance of speaking the language of your target audience.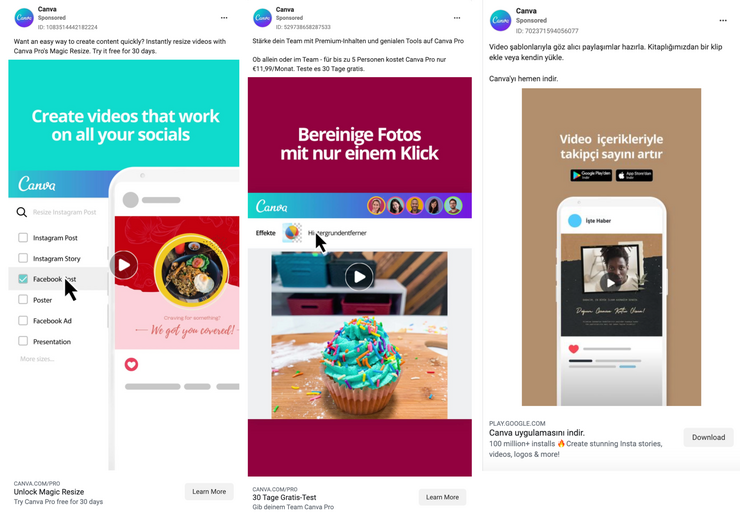 Facebook Ads for SaaS: Canva
Google reports a company that had switched to separate local-language messaging in different states has reached up to 36% lower cost per acquisition.
It's not uncommon for SaaS companies to target primarily English-speaking audiences. And that's their blind spot.
The need for content in languages other than English is amplified, and the Canva team knows that. They adapt their brand messaging to the mother tongue of audiences from different countries.
Even though advertisers sometimes don't bother to translate their landing pages into the language of their ad texts, Canva uses product pages crafted specifically for each language group.
What's good about this campaign:
Canva speaks the language of the countries they target with their ads;
Both ads and landing pages speak the same languages;
Video ads provide quick overviews of the features that are introduced in each ad.
Facebook Ad for SaaS #6: Pipedrive
Pipedrive is a popular CRM solution for marketers and sales representatives.
The Facebook ad promotes a live webinar. Its topic is tightly related to the product itself and appeals to Founders, CEOs, and CMOs. These people are typically the key decision-makers when it comes to choosing a CRM tool that their organization will heavily rely on.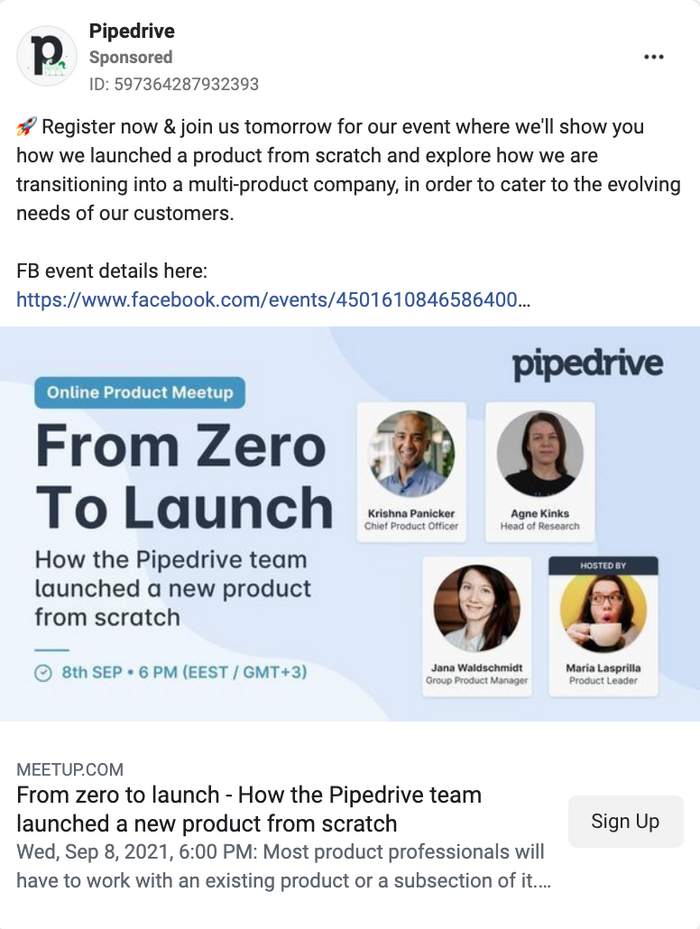 Facebook Ads for SaaS: Pipedrive
In this campaign, we see a combination of an engaging story and a perfect understanding of their target audience.
Since they've chosen to share their own growth story, this campaign will most likely boost brand credibility and make people feel more involved in the company journey.
What's good about this campaign:
It appeals to the key decision-makers;
A webinar is a great way to generate leads for SaaS;
The thumbnail features photos of the speakers, which adds 'the human touch' to the campaign.
Facebook Ad for SaaS #7: GetResponse
GetResponse is another marketing automation tool on our list. It includes functionalities for building websites, creating lead capture forms, setting up automated email campaigns, and even managing paid ads.
GetResponse uses a similar approach Mailchimp and Canva go for – the advertisers pick one product feature and build content that focuses on it.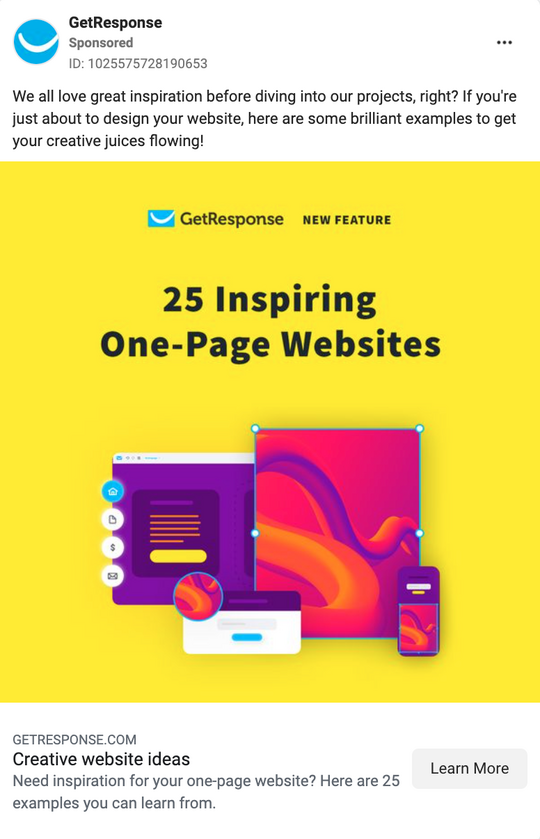 Facebook Ads for SaaS: GetResponse
Instead of promoting a boring campaign introducing a new feature, they've decided to advertise a blog post where 25 ideas for one-page websites are shared. At the same time, it goes without saying that GetResponse not only shares inspiring ideas but also offers users to build their own one-page websites with the help of the platform.
This way, the advertisers have created a campaign that both builds awareness among people who aren't ready to convert yet and sells to those who are already there.
What's good about this campaign:
The campaign offers content that's not only engaging but also highly relevant to the core offering of the platform;
Content types, like listings and templates work best to build awareness among relevant audiences;
GetResponse made it clear what they offer without bragging about the tool features.
Facebook Ad for SaaS #8: Drift
Drift offers a conversational marketing and sales toolkit for companies of all sizes. However, in their marketing campaigns, they focus on mid-sized and enterprise-level businesses.
Here's a great example of a brand awareness campaign.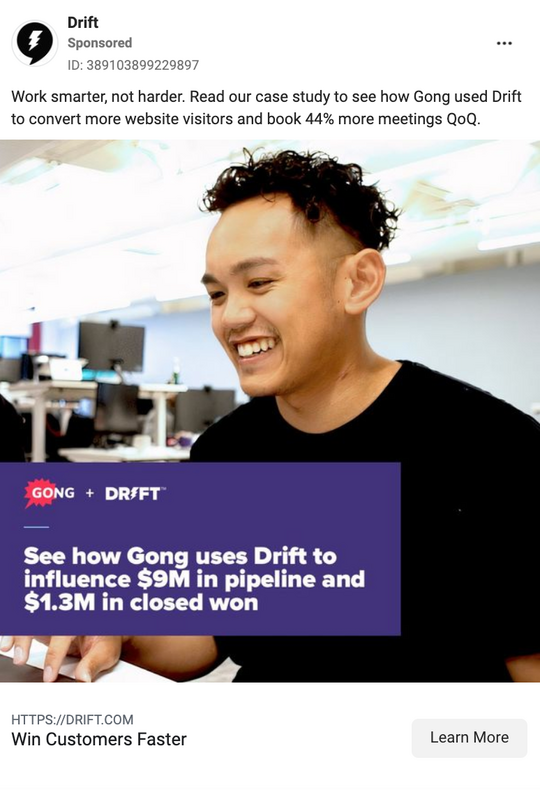 Facebook Ads for SaaS: Drift
Drift shares a case study of one of their world-famous customers. The numbers highlighted are huge enough to catch the attention of everyone involved in the IT, marketing, or a related niche.
The campaign attracts broad audiences and moves them down the funnel with the help of the case study content.
What's good about this campaign:
Mentioning numbers helps to catch the attention of people;
Promoting case studies helps to boost brand credibility and move campaign clickers down the sales funnel.
Facebook Ad for Saas #9: Mangools
Mangools is an SEO toolkit for bloggers, agencies, and affiliates.
The smart campaign below retargets users who have signed up for a free trial of the tool some time ago.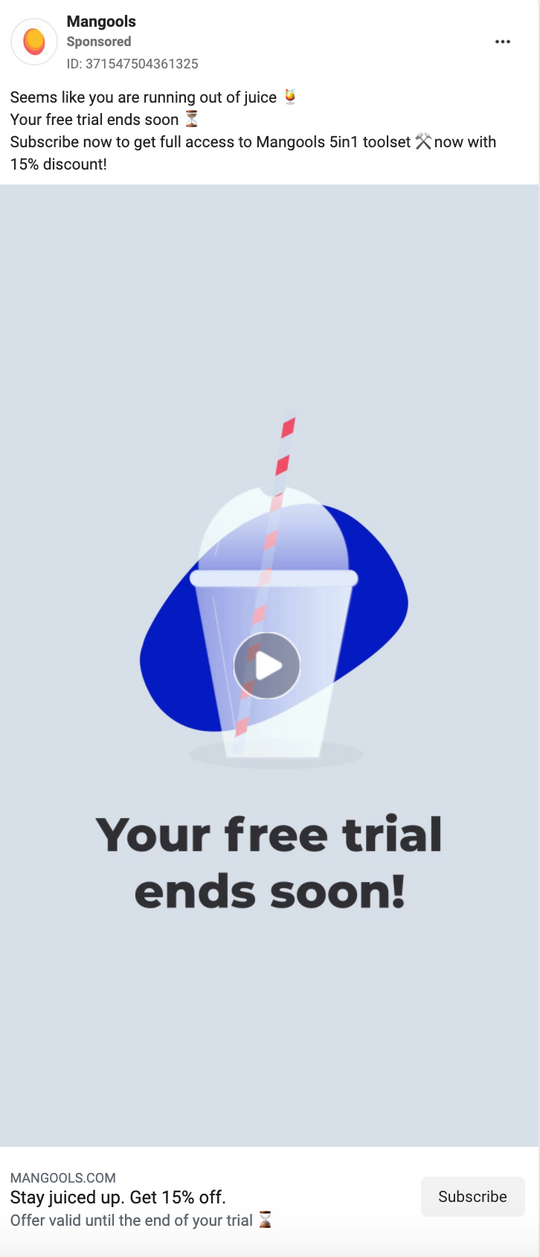 Facebook Ads for SaaS: Mangools
What's good about this campaign:
Retargeting allows the company to reach the most relevant audiences at the right moment;
The advertisers offer a 15% discount for campaign clickers – this is a great way to increase conversions;
The video ad introduces all the pricing plans right away, without the need for users to click on the ad to check out the costs first. It allows Mangools to reduce the number of clicks that won't turn into conversions because the pricing doesn't work for someone.
The Best SaaS Native Ads
Native ads are pieces of advertising that are displayed next to the editorial content on publishers' websites, like CNN or MarketWatch, and are assimilated into the page design.
Native advertising is getting more and more popular among SaaS companies. But you can still enjoy low levels of competition across native ad platforms if you jump in now. For many businesses, native advertising has become a great alternative to Google Ads or Facebook Ads, but the majority prefers to mix those advertising techniques.
Running native advertising campaigns has some tangible benefits:
The audiences your reach with native ads are less distracted and more concentrated on the content they consume.
Given the lower CPC costs, it's a perfect format for brand awareness campaigns.
Generating leads with the help of native ads is less expensive than running Facebook Lead Ads.
Leads you get are typically more qualified than the ones you can drive with other types of paid social ads.
So, how do SaaS companies make native advertising work for them? See below.
Native Ad example for SaaS #1: Grammarly
Grammarly is a cloud-based writing assistant that reviews any text written in an online space and provides recommendations on how to improve spelling, grammar, punctuation, and clarity.
On-Demand Video Course On Native Advertising
Boost your ROAS with native ads. Enroll now with our limited 30% discount.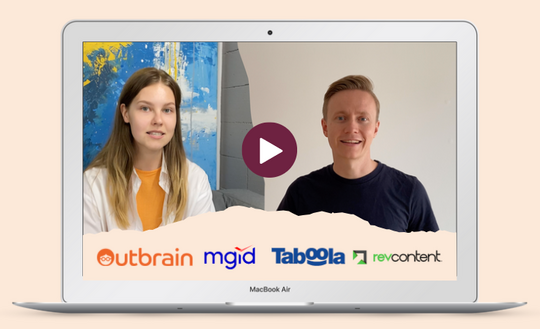 The campaign below illustrates the use of social proof. The technique is also called 'Wisdom of the Crowds' which rerefers to the idea that when a large group of people uses or buys something, others feel the need to follow suit.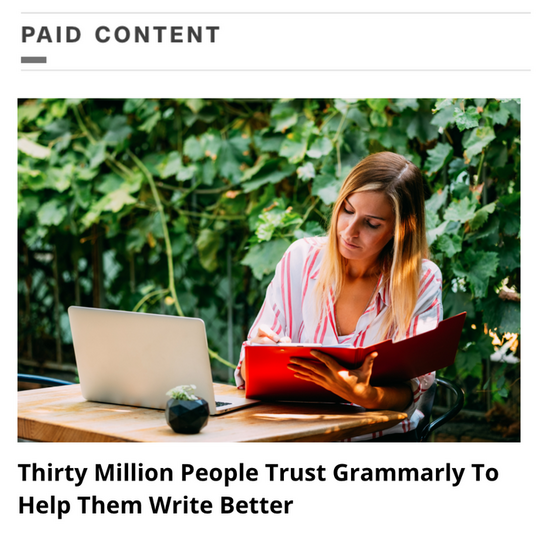 Native Ads for SaaS: Grammarly
In this scenario, you don't even need to make an effort to create a case study or collect users' reviews. You just mention impressive numbers and trigger your prospects' fear of missing out.
What's good about this campaign:
A photo of a person writing a text makes people who send a lot of messages or create content relate to it;
Smart use of social proof;
The advertisers highlight the key value proposition of the tool, which is allowing users to write better.
Native Ad example for SaaS #2: monday.com
monday.com is work management software for teams of all sizes.
The key stakeholders who make the final decision on subscribing to the platform are project managers and team leads. The monday.com team knows the needs of their target audiences and appeals to them in their paid campaigns.
The company uses native ads to distribute top-funnel content as well as product pages. The campaign below is an example of top-funnel content promotion.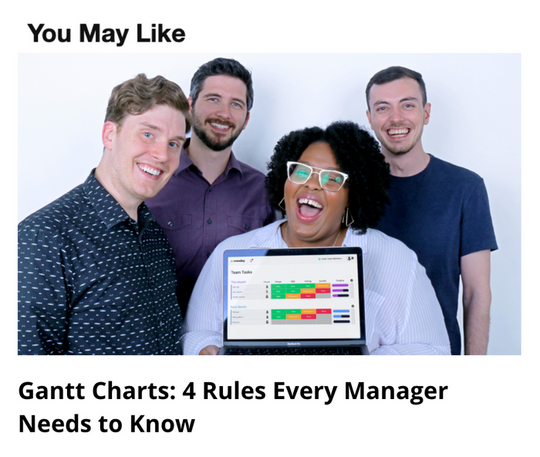 Native Ads for SaaS: monday.com
The ad appeals to one of the managers' pain points – the complexity of Gantt charts. Since the monday.com tool facilitates the creation of more intuitive and effective charts, the campaign is sure to attract people who'll be interested in the solution.
What's good about this campaign:
A team photo adds a human touch to the ad;
An illustration of what the charts built in the monday.com interface look like also helps to catch the eye of project managers;
By addressing one of the pain points of their potential customers, the advertisers make sure the campaign appeals to people who are most likely to convert in the future.
Native Ad example for SaaS #3: SEMrush.com
We've already introduced SEMrush's Facebook ad campaign above. The company diversifies their marketing mix by using multiple advertising channels.
The ad title is an example of clickbait that works. While adding some mystery to the creative by calling SEMrush a 'secret tool,' the advertisers also set the right expectations for people who will click through.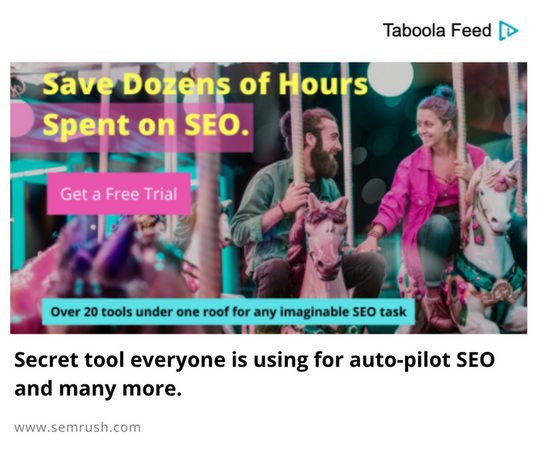 Native Ads for SaaS: SEMrush
What's good about this campaign:
A catchy thumbnail isn't necessarily related to SEO experts, but the text on it helps to keep the subject transparent;
The use of clickbait keeps people naturally interested.
Native Ad example for SaaS #4: Salesforce
Salesforce is the world's most popular CRM platform. Their customers represent businesses across different industries all over the world.
Salesforce invests heavily in brand awareness campaigns. You see one of these campaigns below.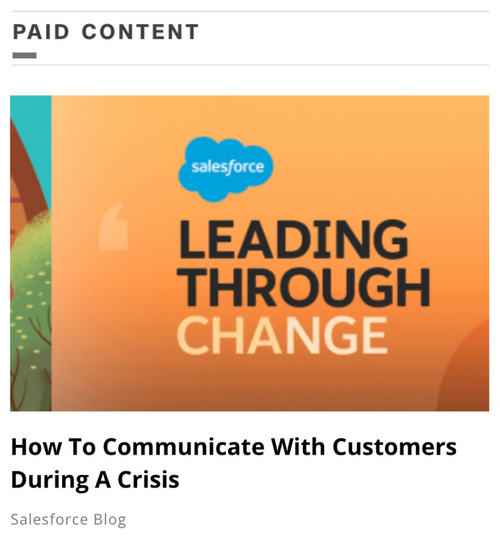 Native Ads for SaaS: Salesforce
The Salesforce team speaks to a broad audience segment with this ad. They reach all the people whose work involves managing customer relationships.
What's good about this campaign:
The advertisers have chosen a trending topic, which would be interesting to almost any business in any country;
The content format (the 'how-to' guide) is perfect for building brand awareness and boosting credibility for a company providing CRM solutions.
The Best SaaS Google Ads
Google Ads is a perfect channel for reaching people who have already started their research. Whereas you should do your best to catch your audience's attention with Facebook ads and native ads, paid search ads catch the searcher's eye first.
With this in mind, your primary task is to pick the right Google Ads keywords and content formats that align with the searcher's intent.
Below are 4 Google ad examples that accomplished the task.
Google Ad example for SaaS #1: PandaDoc
PandaDoc is a SaaS company that provides sales processes software.
As has been said, promoting templates is one of the most effective ways to generate quality leads. PandaDoc uses this technique across multiple channels, including Google Adwords.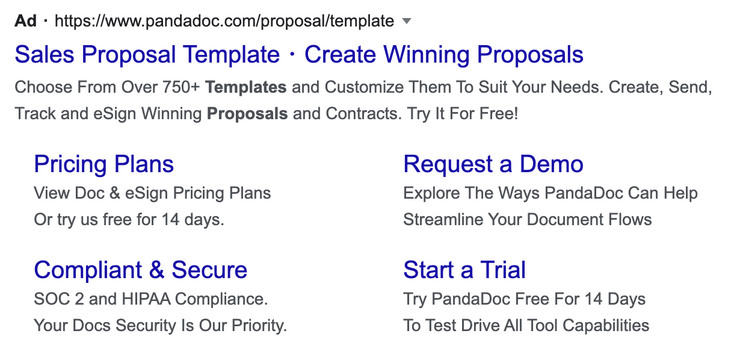 Google Ads for SaaS: PandaDoc
The lead generation process is pretty straightforward in this scenario: to access the template, you need to create a free PandaDoc account.
What's good about this campaign:
The ad shows up when a user searches for the 'how to create sales proposal' query.
The content promoted aligns with the user intent perfectly.
The lead magnet, which is a sales proposal template, attracts the audience that fits PandaDoc's buyer personas.
Google Ad example for SaaS #2: monday.com
Here's one more campaign example by monday.com. The ad is associated with the 'Trello alternative' keyword and drives all the people willing to switch from Trello right to the monday.com landing page.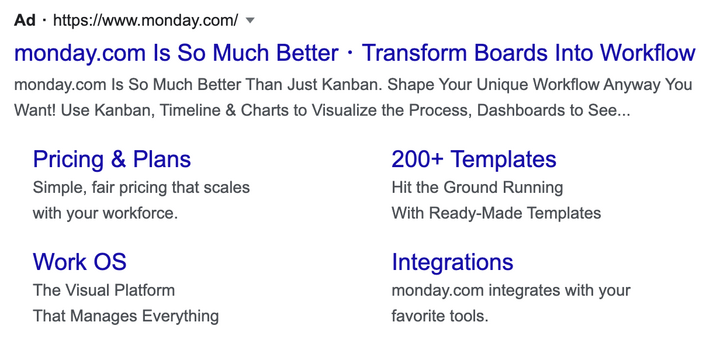 Google Ads for SaaS: monday.com
What's good about this campaign:
The keyword the ad is associated with has a high commercial intent;
The ad is structured in a way users can access the information on the pricing, integrations, and templates in one click.
Google Ad example for SaaS #3: Similarweb
Similarweb is a competitive intelligence tool that primarily targets marketers and website owners.
If you search for the 'how to do competitor analysis' keyword, you'll find the Google ad run by Similarweb. The ad promotes a regular product page.
What's best about this ad is that it includes all the necessary information, including the fact you can get a free trial before committing.

Google Ads for SaaS: Similarweb
What's good about this campaign:
By picking the right keyword, the advertisers are showing the ad to people who need a tool for competitive analysis;
Mentioning an opportunity to create a free account increases click-through rates.
Google Ad example for SaaS #4: Mangools
You can find ads run by Mangools on various platforms, and Google is not an exception.
The advertisers follow the approach similar to the ones of monday.com and choose to display ads for keywords associated with competitors' brand names, namely the 'Ahrefs alternatives' keyword.

Google Ads for SaaS: Mangools
They get bold and use the competitor's name right in the ad text. Most advertisers avoid this technique, but sometimes the risk is worth taking.
What's good about this campaign:
The right choice of the keywords to bid on;
The advertisers not only bid on the keywords containing their competitor's brand name but also use the brand name in the ad text. However, this technique is to be approached very carefully;
The pricing details are highlighted in the ad text, which allows advertisers to avoid spending their budget on clicks from people who are looking for a cheaper solution.
The Best SaaS LinkedIn Ads
Finally, LinkedIn Ads.
LinkedIn now is the most popular channel among B2B marketers as it brings exceptional opportunities to reach professionals when they're most ready to talk business. Let's take a look at how advertisers use the platform to reach industry experts 'in natural habitat.'
LinkedIn Ad example for SaaS #1: Dooly
Dooly is a SaaS tool that helps to simplify the selling and CRM processes.
The company has surprised us with their creative approach to paid social advertising. We didn't manage to pick only one iconic ad example. All 3 campaigns you see below are worth your attention.
The first ad is a perfect example of using customer stories in advertising. The video ad features the dooly user sharing his experience with dooly. He not only tells about the results dooly has helped him reach but also explains how it's made possible.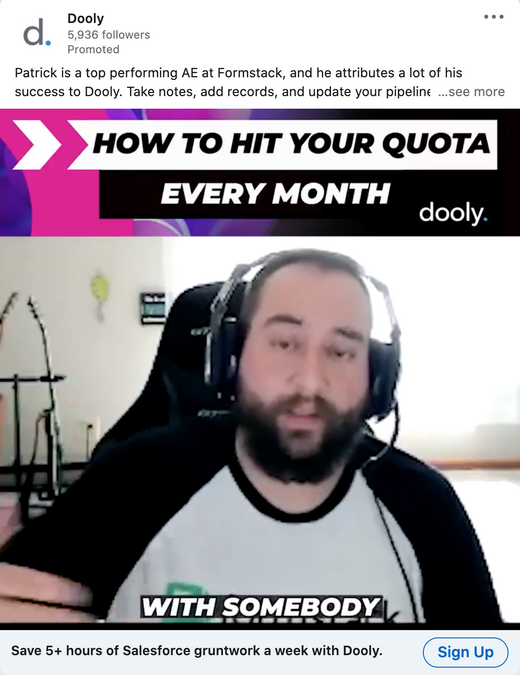 LinkedIn Ads for SaaS: Dooly
The next campaign is a great example of a viral campaign. Its only goal is to catch your eye and make you memorize the brand so that next time you see their campaign it feels familiar to you.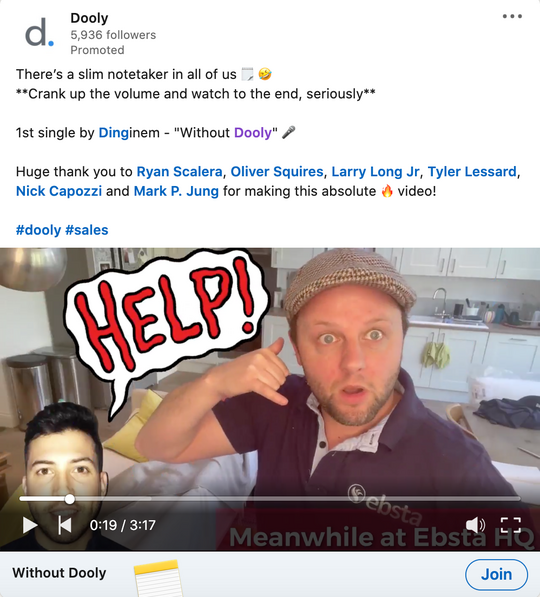 LinkedIn Ads for SaaS: Dooly
The next campaign doesn't need any introduction. It's truly remarkable. The ad below accomplishes 2 tasks:
It does a great job of catching the attention and making people remember the campaign;
It increases free trial signups.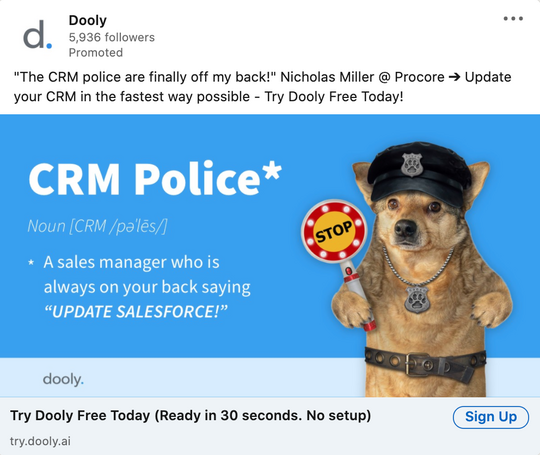 LinkedIn Ads for SaaS: Dooly
What's good about these campaigns:
No stock images, only genuine, memorable thumbnails;
By using different content formats, the dooly team reaches people in different stages of the buyer's journey. While viral campaigns boost brand awareness, customer stories help to move them down the funnel and drive them to the purchase decision.
LinkedIn Ad example for SaaS #2: Storyteq
Storyteq is a tool that enables advertisers to scale the production of ad creatives.
For the LinkedIn ad campaign, the company has chosen their pdf guide where opinions from experts of world-famous brands are featured. They have also set the collage with these experts' headshots as a thumbnail, which adds credibility to the campaign and makes the creative look catchier.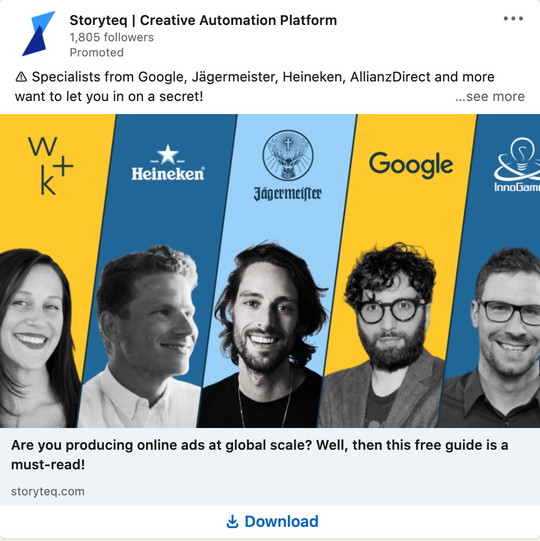 LinkedIn Ads for SaaS: Storyteq
What's good about this campaign:
The advertisers have picked the asset that boosts the campaign credibility;
The asset, which is a pdf guide to scaling the production of online ads, is highly relevant to the interests of Storyteq's prospective customers and helps to generate qualified leads.
LinkedIn Ad example for SaaS #3: Moz
Moz, the top-notch SEO tool, adopts user-generated content in their promotional campaigns.
Although the approach doesn't necessarily drive tons of leads, it's definitely effective for building credibility among potential customers and staying on top of their minds.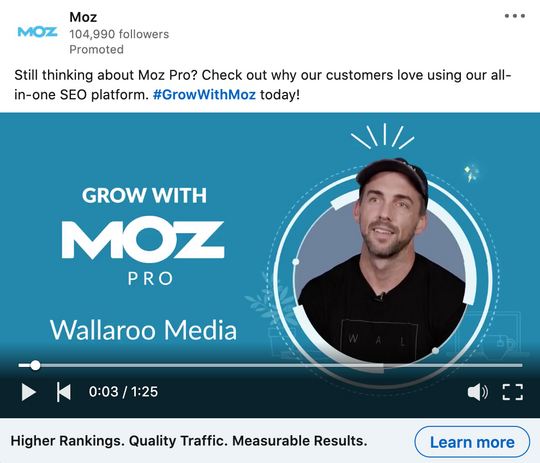 LinkedIn Ads for SaaS: Moz
What's good about these campaigns:
The video ad introduces a customer story;
Moz doesn't push prospects to convert right away, which is the right technique when you promote a brand with a long buyer's journey.
LinkedIn Ad example for SaaS #4: Livestorm
Livestorm is online conferencing software. In their campaign, the advertisers have focused on the key reason their audience goes for organizing an online event: lead generation.
On-Demand Video Course On Native Advertising
Boost your ROAS with native ads. Enroll now with our limited 30% discount.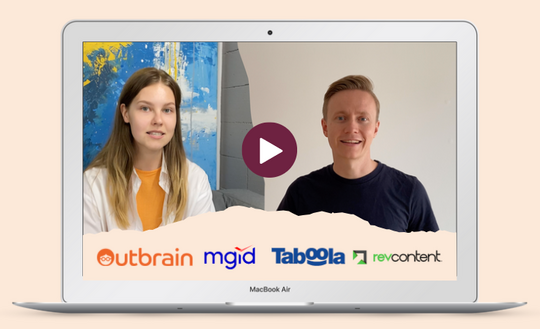 The ad provides numbers that highlight how effective Livestorm is for people who use the tool. The numbers are sure to catch the attention of marketers who are constantly looking for ways to improve the ROI of their campaigns.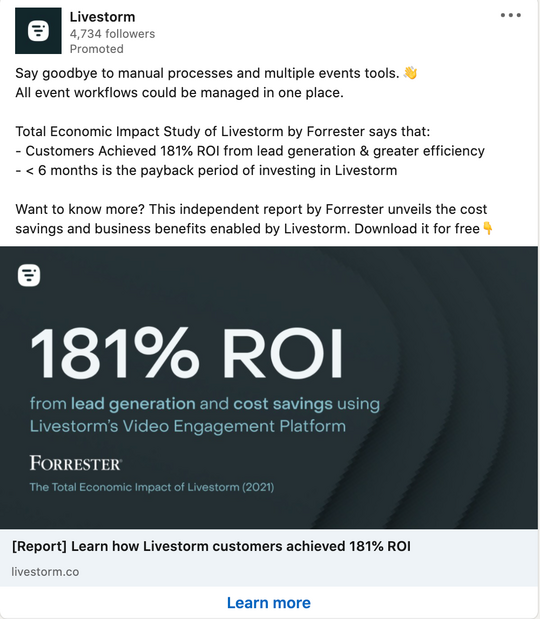 LinkedIn Ads for SaaS: Livestorm
After you click on the CTA, you see a form that's already filled with the contact information that's extracted from your LinkedIn profile.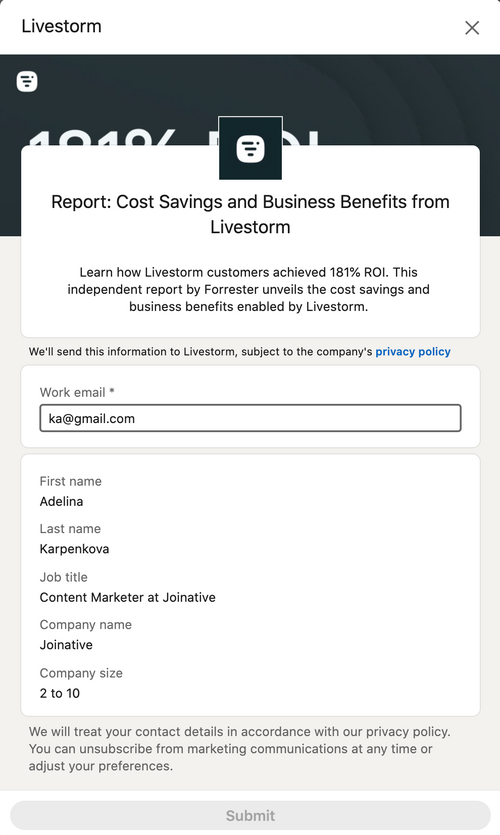 What's good about these campaigns:
By making the numbers prominent, Livestorm draws attention to the ad;
The campaign illustrates a perfect understanding of the Livestorm customers' pain points.
Using the LinkedIn lead gen form allows to reduce distractions and increase the completion rate.
Now, you're ready to build better ads for SaaS
Need more examples? Check out our guide to competitor analysis in advertising and find more inspiring campaign ideas by yourself!